About Dr. Michael N. Roach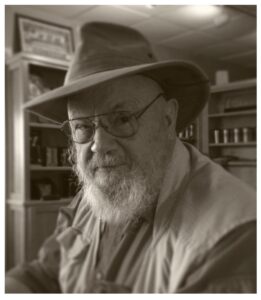 Dr. Michael N. Roach is a retired Professor of Art from Stephen F. Austin State University in Nacogdoches, Texas where he taught for thirty-three years—retiring in the year 2000. Beginning as a film-based photographer he moved into digital imaging in the early 1990's and led the conversion of the Art Department from silver-based film to digital; his digital images have been shown in Russia, Ireland, and Morocco, as well as over the United States. His work, as well as his wife's, can be found on the website: lacombroachpress.com
More than 7,500 students have passed through his classes in general photography, photographic lighting, and photographic history during his career as a teacher; and many now-professional photographers began in his classes.
After his retirement from SFA he taught workshops in Photo-editing and Adobe Photoshop in Austin, Texas quarterly for more than ten years; he now uses Serif Studio's Affinity Photo as his photo-processing software of choice and also uses Topaz Studio's Denoise AI, Sharpen AI, and Gigapixel AI to supplement Affinity Photo's arsenal of tools.
Most of the images in this presentation are the results of recovering images from low megapixel cameras from between 2001 and 2012 using the artificial intelligence software from Topaz, and are from trips to France, Morocco, and Ireland, as well as New Mexico, Colorado, California, Arizona, Louisiana, and, of course, Texas.